Step 3 - Pan fried salmon with saffron beurre blanc
Ingredients
4 salmon steaks – skin on
600 g kipfler potatoes – washed but skin on
2 tablespoons tarragon finally chopped
400 g season appropriate greens – young zucchinis, asparagus, broad beans, broccolini etc
Extra virgin olive oil
Sea salt
Pepper
Beurre Blanc
150 ml good white wine
50 ml white wine vinegar
1 golden shallot
1 sachet saffron
75 ml cream
250 g butter, cut in 1/2cm cubes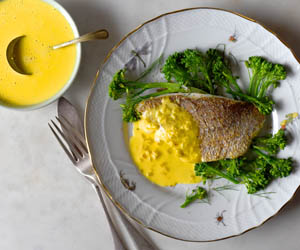 You're approaching the mid-point of this course, however mastery is a lifelong pursuit.
Written references to saffron can be traced back to 7th Century BC in Assyrian records, however saffron's spread across the world can be attributed to the great Persians armies and their wars. Saffron was initially used as a dye and for medicinal purposes, with some saffron pigments in modern Iran dated at 50,000 years old. It is a relatively recent transition (relative to saffron's existence) for saffron to be seen solely as a culinary spice, however there is interesting research occurring at the moment around the use of saffron for macular degeneration, cancer and dementia and I am absolutely fine if my medicine tastes this decadent.
You might be getting the impression that saffron loves butter and it does, hence this recipe for what is basically a butter sauce. It is a very versatile sauce, I have used it on steak, with scallops and of course here with salmon.
Saffron is a flavour enhancer, when used well, you seldom taste it distinctly, but it joins all the other flavours together, a little bit like salt or lemon juice. This recipe is a classic like that, it has shallots, wine and saffron, yet the flavour you get is so rich and has so much depth it makes me want to drink it straight out of the jug.
Great with slightly older saffron, where the honey notes have matured and is showing more iodine characteristics.
Method
Grind the saffron in a mortar and pestle with a small pinch of salt until it is a fine powder, pour half the wine into the mortar and leave to sit while prepping the potatoes.
Cook potatoes in a saucepan of boiling, salted water for 15 minutes or until just tender. Drain and cut into thick slices, dress with salt, pepper, good quality olive oil and the tarragon. Keep warm and set aside.
Combine the saffroned wine with the finely diced shallots and vinegar in a saucepan. Use the rest of the wine to rinse all of the saffron out of the mortar. Cook on medium heat until the liquid reduces to 50 ml (just enough liquid to cover the bottom of the saucepan). Add the cream and cook, stirring occasionally, until creamy.
Increase the heat and gradually add the butter, a few cubes at a time, whisking until the butter melts into the sauce.
Season with salt and pepper, keep warm and place aside.
Lightly steam the greens.
Place some olive oil in a pan on medium high heat, season the skin side of the salmon with salt and then cook skin side down for 3-4 mins until crispy. Turn and cook for another 1-2 mins until cooked to your liking.
Serves 4
Notes:
The hotter the sauce when incorporating the butter, the higher temperature it can be kept at during service. If the butter is incorporated at low temperature, it will split easily, but ensure that the sauce does not boil.
Use a good quality white wine, a lightly oaked chardonnay, an aged semillon etc, whatever you are drinking with the meal.
If you want a more finessed finished sauce, strain the shallots out, but I like the rustic look and the little bursts of sweetness.
You are likely to have left over sauce, it is amazing on pancakes the next day with ham, gruyere cheese and tomato!