Friday night steak special
Ingredients
Your preferred cut of steak. I love scotch as it has great fat in it.
1 sachet saffron
Butter
Salt
Pepper
Wine of course, it's Friday night.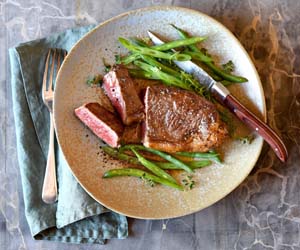 Cooking flavoursome steak doesn't need to be a long drawn out complicated process. Below is the best and easiest way to finish the working week.
Method:

Always bring your steak to room temperature before cooking.
Place a decent knob of butter, size depends how many steaks you are cooking, into a pan.
Place one saffron strand per steak and one extra for luck, in the pan.
Gently heat the pan until the butter has melted and then turn off and leave to sit. This sitting process allows the saffron to infuse with the butter. The longer the better, but at least 30 mins.
Use this time to unwind from the week, go to the gym, dance around the house, whatever makes your Friday night good!
Put the pan on a medium high heat and bring it up to temperature. Salt and pepper the steak just before placing in the pan.
Cook how you like it, for medium rare, cook on one side until the juices just start to rise out of the steak, flip and repeat.
Take off the heat and rest on a warm plate.
Deglaze the pan with ½ glass of the wine you are drinking.
You now have jus, steak and wine. Your Friday night is set.
Serves: You.
Note:The saffron butter can easily cook several steaks without adding additional saffron