Ingredients
150 ml good white wine
50 ml white wine vinegar
1 golden shallot
1 sachet saffron
75 ml cream
250 g butter, cut in 1/2cm cubes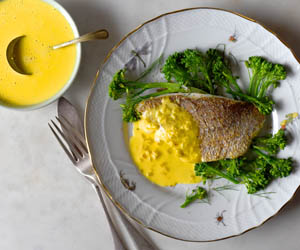 Saffron loves butter, hence this recipe for what is basically a butter sauce. It is a very versatile sauce, I have used it on steak, with seafood and for breakfast on pancakes with ham and gruyère cheese!
Saffron is a flavour enhancer, when used well, you seldom taste it distinctly, but it joins all the other flavours together, a little bit like salt or lemon juice. This recipe is a classic like that, it has shallots, wine and saffron, yet the flavour you get is so rich and has so much depth it makes me want to drink it straight out of the jug.
Great with slightly older saffron, where the honey notes have matured and it is showing more iodine characteristics.
Method
Grind the saffron in a mortar and pestle with a small pinch of salt until it is a fine powder, pour half the wine into the mortar and leave to sit.
Combine the saffroned wine with the finely diced shallots and vinegar in a saucepan. Use the rest of the wine to rinse all of the saffron out of the mortar. Cook on medium heat until the liquid reduces to 50 ml (just enough liquid to cover the bottom of the saucepan). Add the cream and cook, stirring occasionally, until creamy.
Increase the heat and gradually add the butter, a few cubes at a time, whisking until the butter melts into the sauce.
Season with salt and pepper, keep warm until needed.
Serves 4
Notes:
The hotter the sauce when incorporating the butter, the higher temperature it can be kept at during service. If the butter is incorporated at low temperature, it will split easily, but ensure that the sauce does not boil.
Use a good quality white wine, a lightly oaked chardonnay, an aged semillon etc, whatever you are drinking with the meal.
If you want a more finessed finished sauce, strain the shallots out, but I like the rustic look and the little bursts of sweetness.