Rhubarb, saffron and ginger clafoutis
Ingredients
8 stalks of fresh rhubarb
4 cm piece of young ginger peeled and sliced finely
80 g caster sugar
Icing sugar to dust
Batter
1 sachet of saffron or
10 drops saffron extract
250 ml pure cream
100 g caster sugar
60 g almond meal
10 g plain flour
Pinch of salt
2 eggs
3 egg yolks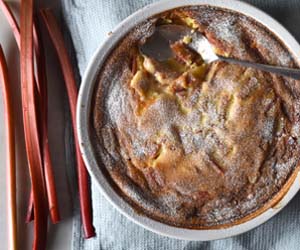 This desert comes from France, where traditionally it should be made with cherries, however the variations are limited only by your imagination. Here we soak the ground saffron in the cream for a least a day, this allows the saffron to completely dissolve and the cream to take in all the flavour and colour.
Perfect with young saffron that is full of honey and fresh green hay notes.
Method
This step needs to be done ahead of time, at least 24 hrs. Grind the saffron in a mortar and pestle with a small pinch of sugar until it is a fine powder, stir it into the cream, rinse the mortar with some milk. Leave the cream to sit in the fridge for at least 24hrs, stir occasionally.
Pre heat the oven to 180C for fan forced.
Roughly chop the rhubarb into finger length pieces. Place the rhubarb, ginger and caster sugar in an oval ceramic dish, approximately 30cm long and toss. Set aside for 20 minutes to let the flavours meld.
Bake the rhubarb for 10 minutes and then set aside for 10 mins while you make the batter.
Place all the dry ingredients in a mixing bowl with the whisk attachment or in a food processor and give them a quick mix. Add all the wet ingredients and mix well. Pour oven the rhubarb and stir gently to lift the rhubarb off the bottom and distribute evenly through the batter.
Place in the middle shelf of the oven and cook for approximately 40 minutes, it should be puffed up and golden and a skewer should come out clean.
Dust with icing sugar and serve with cream or ice cream.
Serves 6
Note:
During spring cherries can be used in place of rhubarb and ginger. Pip them first and put them straight into the oven with the batter, they don't need pre-cooking.