Roast Pork Loin with saffron and fennel
Ingredients
1.5 – 2kg good quality free range pork loin, skin on
1 sachet saffron
½ tablespoon fennel seeds
Extra virgin olive oil
Salt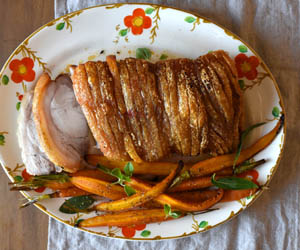 Nothing beats the smell of roasting meat. Prep the day before for best results.
Method:

The day before, score the pork loin in a diamond pattern, approximately 1cm square, take care to not score too deeply through the fat. (A sharp knife will make this much easier)
Hold carefully or place on a plate and pour boiling water over the skin, this will help open it up and wash off any impurities. Pat dry with a paper towel.
Place saffron and fennel seeds into a mortar and pestle and grind well. Rub mix onto the meat side of the pork with your hand, if necessary use a brush to empty the mortar properly.
Place on a plate and rub ground salt onto the skin. Place in fridge overnight. Use a paper towel to dry the excess moisture off the skin the next morning, and rub in more salt.
Pull the pork out of the fridge at least 30 mins before cooking (bringing it to room temperature will help ensure even cooking)
Pre heat oven to 250C fan forced. Brush excess salt off skin and rub with olive oil. Place in a baking dish and cook in oven for 20 mins per 500g. Use a digital thermometre to check if the pork is cooked, the middle should read 62C.
Rest in a warm place for 15 mins, centre should reach 70C.
Serve with roast vegetables or wombok coleslaw depending on weather.
Serves 6