Halloumi with Saffron and Honey
Ingredients
250g halloumi cheese
2 tbsp honey
2 tsp fresh rosemary, finely chopped
1 tbsp boiling water
10 drops saffron extract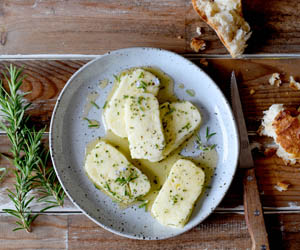 Hot, gooey halloumi makes a great snack or addition to an antipasti platter, its biggest problem is it needs to be eaten hot before it goes back to that weird rubbery consistency, but that won't be a problem with this recipe. This cheese will disappear as fast as you can get it out of the pan.
The fresh rosemary cuts beautifully through the sweetness of the honey, while the earthy notes of the saffron tie it all together. If you're not a sweet tooth I'd recommend a squeeze of lemon after it's on the plate, just to settle the honey down.
Method:

Cut the cheeses into slices a little under 1cm think, place on paper towel, with another paper towel on top to absorb excess water.
Place rosemary, honey, saffron extract and boiling water in a small bowl, mix and then microwave in 10sec increments until all combined and hot. Leave aside for the flavours to combine, can be made several hours in advance.
Place a non-stick frying pan on a medium heat. Fry the cheese in small batches, it will need about 1-2mins on each side, but you'll know when to flip it because it will start releasing fluid and should be a lovely golden colour underneath.
Once all the cheese is cooked, place it all back in the frying pan and add the sauce. Cook for an extra minute and make sure the cheese is properly covered in saucy goodness.
Pull the cheese out, reduce the sauce a little bit further.
Drizzle over the top and eat quickly while it's still hot with great bread.