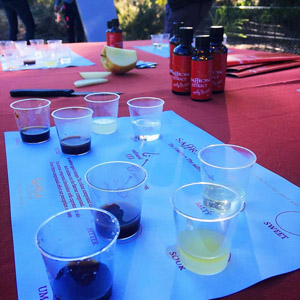 Life up here in the High Country is pretty awesome! We have gorgeous summers with cool, clear rivers to swim in. Our autumn is spectacular, with mountain breezes and all the leaf colour counting down the days till winter is upon us. Winter is cold, but the air kind of sparkles, and spring is just a pleasant relief. We love to share the High Country with others, especially in autumn where harvest is finishing for most people and the weather is still good, so be sure to check out the events available this May as part of High Country Harvest Festival. It runs from 4 - 20th of May and is filled with workshops, dinners, bonfires and all sorts of other exciting foodie related activities.
As part of the festival this year, we received a special visit from the crew at Movida in Melbourne, one of the top Spanish restaurants in Australia, wanting to learn and hear about all things saffron, as they plan the menu for their exclusive High Country lunch on Saturday 26th May, where they bring the best of the High Country to Melbourne. It was an exciting visit with Frank Camorra bringing three of his chefs, and Dani Valent and her film crew to document it all. I got them up bright and early in the hope that our little saffron flowers would show themselves, but alas that wasn't to be, instead we spent two hours talking all things saffron, how it grows, the challenges we face, the need to harvest twice a day during peak flush to ensure premium quality. We then moved onto the 5 tastes and the saffron effect, which is an interactive tasting experience, it really opened the chefs' eyes up to the full possibility of saffron and that it shouldn't just be used in the classic dishes and to make rice yellow.
The menu for the lunch hasn't been released yet, but I am very excited to see what these highly competent, innovative chefs do with my saffron. I'll be at the lunch, so be sure to get your ticket and come and join me. Watch our social media for more information, or keep an eye out here https://www.highcountryharvest.com.au/viva-movida/.